Coronavirus
Whilst the website is still available for placing online orders, due to government restrictions on movements and social distancing, any orders placed during the coming weeks will be dispatched once the current restrictions are lifted.
Apologies for any inconvenience caused, and thank you for your understanding. Stay safe!
Tay Salmon Fly
About Tay Salmon Fly Limited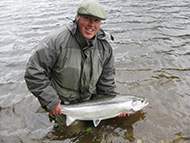 At Tay Salmon Fly we only sell proven patterns that have brought anglers all around the world much success. Our custom range of patterns are all original patterns designed by Mr Tony Black, Ghillie on the Murthly 2 Beat on the River Tay. Tony's flies have caught him 1000's of salmon and now they are available to the fishing world.
Keep ahead of the competition and stock up your fly box with flies from Tay Salmon Fly.
Other Patterns or Custom patterns can be tied on request, just fill in the contact us form with your requirements.
Thank you for visiting Tay Salmon Fly and we wish you tight lines with your new flies.