Custom Flies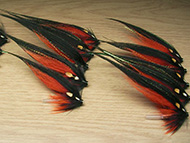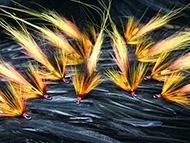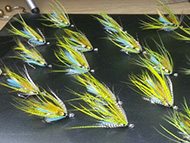 Tay Salmon Fly Ltd carry a good selection of our most popular patterns on the website, however, if you require patterns that are not listed or something completely different, then we can tie these for you as a custom order.
The process is simple for custom orders. Just drop us an email with your requirements and we will get back to you with a price and to confirm your requirements.
If you simply require alternative pattern, which we do not normally supply or carry in stock, then we will send you a photograph of the fly for your approval, if required.
If you would like a brand new pattern tied to your specifications we will tie a sample fly and send it to you for your approval or we could email you photographs for your approval. We may have to repeat the process once or twice to get exactly what you want but once you are finally happy with the design we will tie your order.
If you would like to make small simple changes to your favourite patterns (different body colours, head colour, a different material etc for example) this can also be done.
Minimum quantities for custom orders are 2 dozen flies (24). These can be tied on more than one size of hook.
Custom orders are subject to a 50% deposit.
Prices for custom orders start from £36 a dozen (12).
If you have any questions please feel free to contact us.